Latest Updates:
28/3/2020 - To comply with UK government requirements to tackle the current coronavirus pandemic we have now closed our website to new orders. We will review this decision on a regular basis and hope to reopen later in the year, as the situation allows. A huge thank you to all our customers and friends. Please look after yourselves, follow guidelines and stay safe. We will see you on the other side of this!
5/3/2020 - We expect to continue taking online/website orders this week, although our office is closed. We plan to dispatch orders on Friday 27th March, after which we anticipate temporarily ceasing to trade as we will no longer be staffing our office.
24/3/2020 - Following the UK being put into stricter "lock-down" we will remain open for online orders, however we are now only packing/dispatching orders twice a week. We are not offering "express" delivery, and cannot guarantee adhering to our usual policy of dispatching orders within 2 days of receipt. We hope you will understand and accept a small delay to your order during this difficult time.
23/3/2020 - We are still here and the office is open, albeit not every day. We are working on the assumption that the UK will go into full "stay at home" lockdown by the end of this week and our officwe will then close. If/when this happens we will endeavour to despatch received orders before closing, however if this is not possible we will of course refund payment in full.
19/3/2020 - We can no longer guarantee being able to provide a UK next day delivery service as Royal Mail have now ceased their pre-13:00 next day service. We may be able to offer pre-09:00 next day, but need to confirm on an order by order basis. Please contact us if required.
Obviously the coronavirus/Covid-19 situation is rapidly developing and changing on a daily basis. The Ceto Militaria website remains open 24 hours a day and we will continue to gratefully accept your orders.
As the majority of spring & summer military/historical events that provide a large part of our business at this time of year are now being cancelled we are expecting a fall in trade. As a result, and with a view to increasing "social distancing" measures, we are planning on reducing our office hours to 3 days per week.
This, combined with our expectation that courier delivery times will increase over the coming weeks/months mean that our delivery times may be slightly longer during this period. We hope you will understand and bear with us.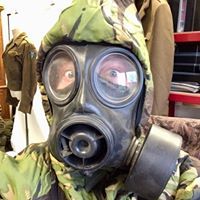 Be assured that we are hand sanitising prior to packing orders and if any of us in the Ceto Militaria office show any signs of, or suspect we may be suffering from, coronavirus we will postpone despatching orders and contact you to advise accordingly, so as to minimise any risk to you.
All the best to our customers old and new during this difficult time. Stay safe, be sensible, follow WHO guidelines, ignore the social media rubbish and fraudulant evangalists offering mircale "cures". See you on the other side!
Jamie, Ceto Militaria