About us...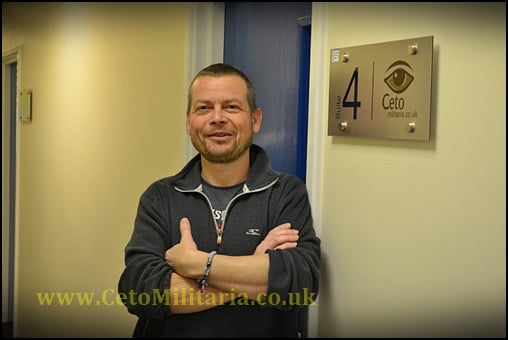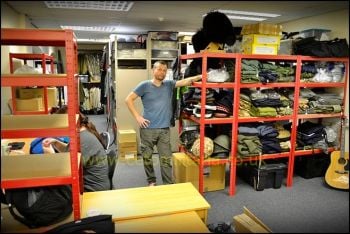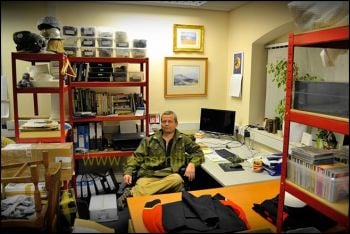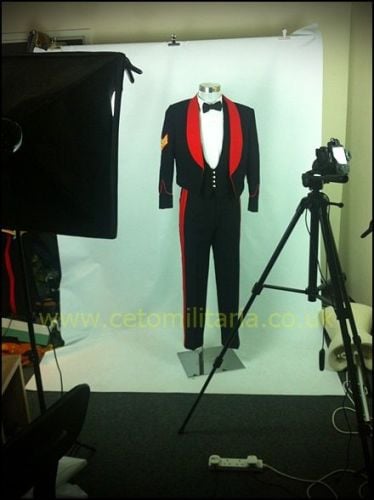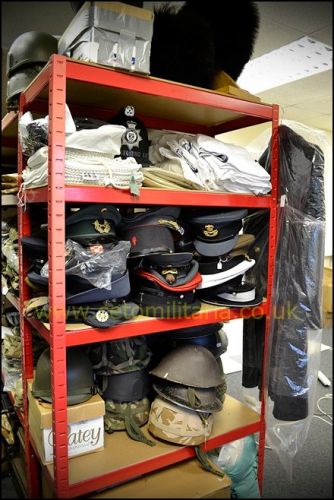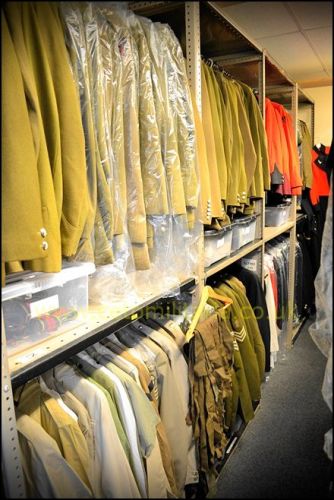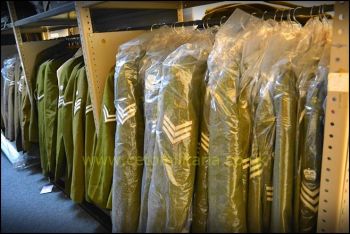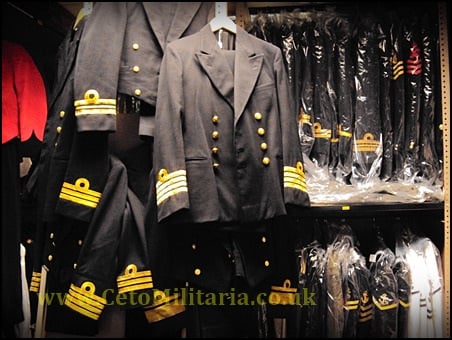 Who are we?....
More "me" than "we" to be honest, although now we are one and a hlaf thanks to the lovely lady who comes in a couple of times a week to take photos and generally help out.
My name is Jamie Wilkinson and I started Ceto Militaria in January 2013 as a way of trying to make a modest living without having to return to my previous life as a corporate IT Project Manager. After several years spent travelling and living in West Africa, the desire to spend my remaining working life toiling for someone else has proved not to be particularly strong. After a few years alternating between contract consultancy work and travelling the world I set up Ceto Militaria as a way to pay the bills whilst doing something I enjoy and have an interest in. So far it's working....
The basic philosophy behind the company is to offer interesting and unique items of militaria (uniforms mainly) at fair prices, whilst making a reasonable profit of course. Sometimes that's easier said than done, especially trying to source stock at the right price, but it makes for an eclectic and ever-changing stock list. I focus on post-war British non-combat uniforms but am often getting other interesting odds and ends in, and there's usually plenty of stock which isn't yet listed on the website, so if you can't see something you want, please ask.
I aim to get orders out of the door the following working day, and answer queries within 48 hours wherever possible. There are times though when it gets busy or I'm out of the office and things take a little longer - at the very least I'll do my best to let you know of any delays.
I'm based in Lincoln, UK, where I have an office and storage. There's no shop, sales are all online, however by prior arrangement it's no problem to visit to view/try specific items that may be of interest.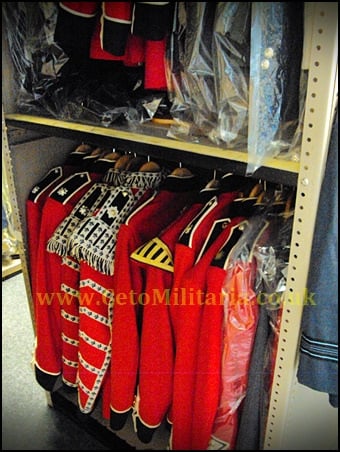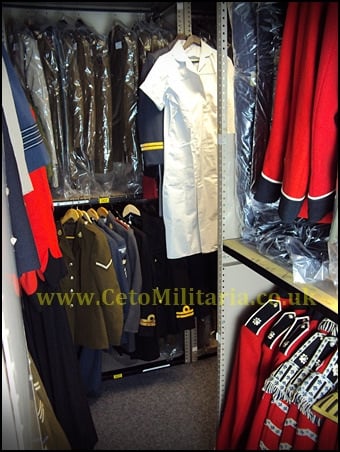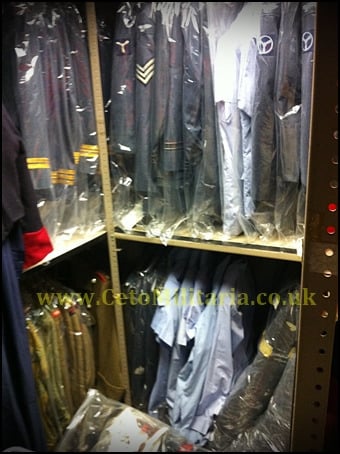 Office Hours: Fluctuating, but as a rule the office is manned Mon/Fri 09:30 to 17:30. We aim to get all orders out on the next working day, which we achieve around 95% of the time. As we are rarely sitting by the phone, the best way to contact us is via email - [email protected].
Ceto Customers...
In addition to a large number of UK sales, we have customers worldwide, including North America, Brazil, Scandinavia, The Baltics, Singapore, HK, Australia, New Zealand, Papua NG, Israel, Ukraine, Poland, Czech Republic, China, Japan, and the majority of Western Europe. We are happy to quote for shipping to anywhere in the world (apart from Russia, currently) - if your country isn't listed at checkout then please just ask for a shipping quote.
As well as receiving many testimonials to the accuracy of our product descriptions and service, I'm proud to have a number of regular customers who trust Ceto to provide the right items at a reasonable price.
Some Customer Feedback...
"I'm very pleased with my purchase, and I thank you for this fine transaction." - SA, Switzerland
",,,my package arrived, really pleased with it." - EB, Aberdeen
"The greatcoat arrived today and I'm very pleased! Fits well, fine condition, warm and smells nice. Already received a compliment and shall be wearing it this winter. Thanks again for your help and I hope to do more business soon" - MH, Coventry
"....many thanks for the quick service and very pleased with it too" - AW, Suffolk
"Cap arrived today, Great condition, Very pleased. Thank you. Will be using your site again" - VC, New Zealand
"The smock arrived in great condition and is just what I needed, thank you" - KL, County Down
"Over the moon with the uniform, it's in amazing condition. Thank you for such great service." - GK, Hampshire
"I wanted to share with you my appreciation and gratitude for all the effort you went to in order to make sure my orders were right. It is always hard when ordering uniform etc online but you made it easy through your engagement and experience. Thank you! The items ordered with you were spot on" - MP, Cumbria
"Thank you, I am very satisfied. many thanks for the quick processing" - TM, Germany
"Again thank you for the excellent service." - DL, Cheshire
"...am DELIGHTED with purchase. Very happy to recommned Ceto UK to all enthusiasts.... many thanks" - MM, Bath
"Just received the Barrack trousers - excellent quality, good fit, fast delivery. 10 from 10 for Ceto Militaria!" - MS, Austria
"Thank so much for your excellent service especially during lockdown!" - LL, Surrey
"Uniform arrived. Fits like a glove. Thank you for your fabulous service, no doubt I'll be ordering from you again soon" - JE, Yorkshire
"the parcel is arrived !!!! What a great performance from you!! Thank you for the support!!" - RS, Germany
"I have received the Commanders uniform in excellent condition and thank you for a great service, being both a prompt delivery and a great value for the price. Hoping to use you again in the future." - MB, UK
"Just to let you know that your parcel has been delivered today!
Great service.
Thanks !!" - JB, France
"Many thanks for my lieutenants Jacket and Trousers......Great service from you, many thanks" - GB-H, Devon
".....thank you again for the professional and efficient service." - TX, London
"Well done to all on sending me a fantastic item, exactly what I wanted .10 out of 10" - LW, Notts
"Great item and service. Thanks" - TE, Staffordshire
"Mess Dress outfit and cap arrived today. Totally accurate - immaculate condition, thank you! I will defiantly be back in touch to buy other items from you!" - JT, Cheshire
"I am very pleased with the uniform's condition, it was exactly as described on your website. Thank you for all you assistance in expediting this order. It was a pleasure doing business with you" - JA, USA
"Hi Jamie received Raf uniform very pleased and well packed very prompt and excellent service . Thank you" - DB, Conwy
"The cap is spot on, perfect fit and excellent condition, I couldnt not be happier." - MM, Lancs
"Parcel received today!!... Was really quick. Our son is very happy with what he purchased." - AB, France
"Thank for this nice RAF coat and the fast dispatch" - RB, France
"...the uniform arrived safe & sound - a great piece! Many thanks…" - RB, Portugal
"...thank you very much indeed…brilliant service" - PM, Bristol
"I just wanted to say a quick thank you for your help, and credit where credits due, amazing service. The parcel arrived this week and everything is brillant and fits perfectly.
" - KT, Staffs.
"I received the dress this afternoon again thank you for the quality of your articles I am very satisfied. I look forward to ordering from you again. thank you." - SW, France
"I am very pleased with the two items I have purchased. Both the packing and the postal service were excellent all round. I look forward to dealing with you in the future." - MR, Eire
"Thank you very much.... I really am delighted with it, the quality is fantastic and you were great to deal with. I hope to order more from you in the future." - RM, Herts
"I cannot thank you enough for such an amazing service!!" - JL, Herts

"I just wanted to thank you for sorting the sailor uniform. It fitted perfectly and was just what I was looking for. I Hope to use you again in the future. Many thanks." - PU, Lincs
"Just to thank you, for sending the items so rapidly. They all fit perfect. Plus I'm pleased to find them in such good condition" - PH, Warks.
"I am very glad to say that everything arrived safely and is great. Thank you for your very prompt attention to this order. I know that we will be working together again." - RG, London
"3 reasons why i'd reccomend Ceto: #1 very reliable and professional customer service; #2 wide range of products at very fair and competitive prices;#3 Jamie is very knowledgable and extremely helpful. Once again a real pleasure doing business with you : )" - DS, Lancashire
"It was a fantastic service and wonderfully cool item, I´ll gladly be back shopping" - FB, Canada
"It's very nice doing business with you, you give a good service and I would recomend your site to other people. Thank you very much" EM, Netherlands.
"Thank you for all the clear pics, very honest and truthful of you. I'm impressed!" - AL, Cardiff
"Just received my Wing uniform, great price and great service thank you." EM, CoDurham
"Just want to email and say thank you very much for my order. It's arrived today and couldn't be happier with the service I've received" DB, UK
"Just want to tell you my father is ordering quite a lot of military historic items from whole world, but I do not let any feedback to anyone (because its boring in such a quantity), so Im writing you just because with your delivery was unusually satisfied . He exactly said your delivery was one of the best he made, especially because of packaging and items description. Thumbs up" PC, Czech Republic
"Thanks for your efficient service with the buying/returning of the uniforms I ordered. I received the credited payment and also wore the No2 Mess Dress to a dinner last week which was great." LW, Hampshire
"Thanks again for the excellent service." CG, Germany
"Very pleased with the green storm jacket, prompt delivery and in excellent condition." CW, Cambridgeshire
"Over-the-moon with the uniform... Beautiful condition and received very promptly, so thank you for a super service." EC, Essex

"Thank your for your excellent service. Uniform was received, packed well.

Thank you

." 

M B-M, Kent.
"Just a quick thank you for my recent order, ( Royal Marines Officer ) arrived in super quick time and was exactly as you described it only better, I would not hesitate to recommend you to all my friends." GF, Derbyshire
"The uniform arrived late yesterday afternoon. It is beautiful! Thanks for the prompt delivery" RF, Florida, USA
"Hi Jamie, many thanks, another great item !, all the best," JP, UK
"RHA greatcoat just arrived. Really great, in very good condition. Many thanks!" RM, Italy
"I am one very satisfied costumer the jacket fits perfectly, it is in very good condition, if it was used it can not have been for long. The sizing is on the button and the courier company have been great and easy to track" JW, New Zealand.
"Just wanted to say a massive thanks for supplying me with the mess uniform.The tailors at RAF Halton were really impressed with the quality of the Jacket and told me I'd got a good deal.

 Once again a massive thank you and I will definitely be recommending your company to my colleagues." JW, RAFVR.

"Thanks for a very pleasant & easy transaction, hope to deal with you again..." GP, Norfolk.
"Item arrived this morning. Needless to say I'm really pleased with it, it's superb." MF, Yorkshire.
"Uniform is in a very good state.... Thanks for everything, I hope we deal again in the future." FMB, Spain.
"Item has already arrived, thanks very very much. I'll tell all my friends about your shop" VS, Italy.
"Many thanks for the uniform it is 100%" JT, Lincs

"Thanks!!! Hope to deal with you again." EB, Malta.
Regards,
Jamie Wilkinson