Sizing / Measurements
Uniform Sizing / Measurements
To better understand the size of clothing items, and whether they are an appropriate fit for your purposes, we now use the following as a basis for measuring garments:
Jackets/Tunics
The following measurements are taken when the jacket is laid flat: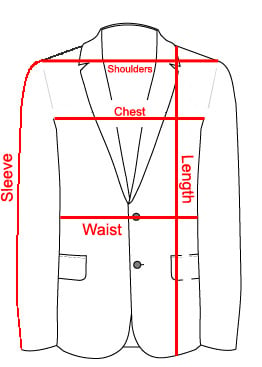 We also provide an estimate as to the chest size the jacket will be suitable for (I.E. "Approx. 40/42" chest").
This is usually double the "laid flat" measurement, minus an inch or two to allow for comfort/undergarments (E.g. 21" chest laid flat = 42" doubled, minus 1" to 2" = an estimated 40/41" fit).
Trousers/Skirts
The following measurements are taken:
Waist - the actual circumference at the waistband.
Leg/Length - the inside leg measured from crotch to hem, or skirt measured from waistband to hem
Skirt Hip - measured 8" below the waistband.
You may wish to allow a little space for comfort - I.E. an actual 34" waist may be more appropriate for someone with a 33" or smaller waist.
Hats/Berets
The actual inner circumference at the brim.
Before ordering an item we suggest you compare measurements from one of your own jackets with the measurements we have advertised to better understand the fit of the item you are interested in.
We strongly recommend you measure yourself honestly, and do not use the label size of civilian garments when checking your size - these are usually made with considerable excess material.
For our refund policy, please see Terms & Conditions.